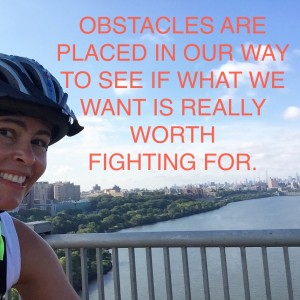 Sunday.  Back on Piñata Bike.  Across Manhattan. up the West Side, Over the George Washington Bridge to 9W.  Just me, Piñata and a ride coach.  For months, I have wanted to take photos on the George Washington Bridge while I pedal along.  Finally did it.  Don't worry, I was wearing a parachute.
Silly Rabbits, there are no parachutes, one adventure at a time kiddos.
The phrase on this photo bugs me because of the grammar.  Ending a sentence with a preposition?  What the what?!?!  But, the saying is true to me, and applies to so many things.  Endless.
I didn't have a great ride on Sunday.  I rode slower than I envisioned.  I struggled on a route I sort of already know.  It was a gorgeous early morning, and I wasn't riding strong.  There was so much road kill on 9W.  A lot.  I kept running over very flattened, furry things.  Oh man.  Sometimes I tried to imagine I just ran over a very dirty Barbie fur coat.  I wasn't feeling great.  Blood glucose ran pretty well and I was drinking my electrolytes.  As I lagged behind the coach, I looked up a hill and was stunned.  There was a deer.  A fawn.  In the shoulder of the road, right in the path.  I yelped to the coach (yelping is a sort of description of a really weird non yell noise that I made).  Cars sped by.  The fawn jumped into the brush and there were two baby deer.  The ride coach passed the deer.  I sped up, a little scared the deer would jump into the road and tackle me (another bizarre bike adventure? Please don't tackle me deer).  As I got closer, all 3 just stared at me.  The fawn had large scars on her back.  She clearly didn't have it easy.  For some reason I said in a low voice, "You guys need to move over.  Go."  And I waved my arm.  They stayed put in the brush.  Apparently even deer don't listen to me.  Oh, dear (errrr deer).
I didn't ride as far as planned.  I was the reason we turned around early (I hate that).  I had a MUCH better ride back (wind on my back helped) and I got the coach to talk to me (I actually said "tell me a story".  When I'm not feeling 100%, I find chatter an awesome distraction).  I ended up riding 46.5 miles.  Not great (for me) but acceptable.
Obstacle are placed in our way to see if WHAT we want, is worth fighting for.
I want to help cure diabetes.  I want to push new technologies forward.  I want to use my voice, my time, my life, my experience to make a difference in this diabetes game.  I'm gearing up with a new plan.  My goal didn't end in Burlington.  Here's where to help: RIGHT HERE , or you can physically push me along (I'm really not kidding)… I'll let you know the route!