This morning I had my 3 month Endo appointment.  I've decided I'm not ready to write about this appointment, yet.  Time to process.  My A1C was acceptable but elevated by .2% which wasn't shocking or even surprising.  My problem though was with the rushed, interrupted and frankly uncomfortable conversation I had with my doctor today.  When I call the situation "not cool", it is because I apparently cursed so much my first 15 minutes back at my office, that I may be in "time out" the rest of the day.
So, I left my doctor's office this morning, shaking my head a bit.  The wind definitely knocked right smack out of my sails.  I started to walk and thought how very much I needed to find a heart  (note: if you follow me on Twitter, you get this.  I find hearts.  The hearts actually just found a new home but only a few have moved there so far.  Work in progress people, work in progress).  So I started walking.  I planned to calm down, shake it off a bit, find a heart, breathe, maybe grab a bite to eat and hop on the subway.
I never stopped for a snack, I realized the Upper East Side of Manhattan has a distinct lack of graffiti (especially on Madison Avenue), and I walked close to 50 blocks before I found this glorious yellow heart: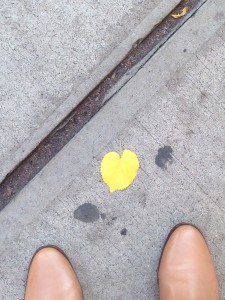 While I attempt to wrap my head around today's appointment, I leave you with the following from my post-endo walk: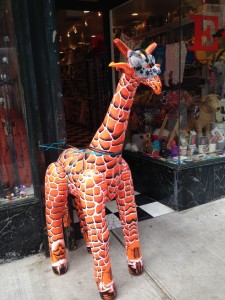 Somehow an inflatable giraffe wearing a fancy masquerade mask did cheer me a bit.