I love this idea from Chris over at A Consequence of Hypoglycemia Seriously, how could you not like this idea? #DBlogCheck ! Do this. It's a great Do Good, Feel Good to start off the week!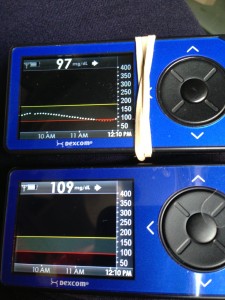 I am back in business (see previous post). My broken slidy door Dexcom needs to be sent back ASAP, but for the weekend, I was monitored by 2 glorious blue G4s. It was perfect timing for #BlueFridays (and some pretty nice pre-lunch BGs from Friday too).
JDRF is involved in the Disney Marathon (and 1/2 marathon, 5K and 10K). It's actually called the Disney Princess Marathon. I'm not going to hide it. This intrigues me (heck, I've already got the ears right? A friend recently got them for me and my name is even embroidered on the back. Oo-la-la). I would have to get rid of the shooting pain that keeps happening in my left knee when I run. I'd also need to actually train. Going to Disney World to run a 5K would be funny. Going to Disney World to run a 5K AND raise money for JDRF? Sounds kind of awesome (and still funny).
I'm a big fan of Katy's over BigFoot Child Have Diabetes. As someone who did not go to the FFL conference, I enjoyed her recap of all the events and activities (she also cracks me up).
Am I the only one who thinks this looks like some sort of vampire call signal? I watch too much True Blood I guess.
Are you going to be in NYC on Sunday, September 29th? Want a GORGEOUS view of NYC from the Brooklyn Bridge? How about getting a little exercise? Come join Alecia's Stem Cells! Our goal is simple, to assist JDRF in it's mission: to find a CURE for diabetes and its complications through the support of RESEARCH! If you'd like more information on ASC, we're on Facebook too.
Also, if your looking for some in real life D bonding, JDRF NYC hosts a New York Metro Region group for adults living with or new to type 1 diabetes (T1D). The meetings are monthly at the NYC office "to greet and chat with one another in a safe and supportive environment". Last week we had fun presentations from John at ShugaTrak and Caitlin at TypeTanks and then some of us went out afterward. If you'd like more info, please check-out the JDRF Metro NYC T1D Adult Group page.
And finally I am off to my diabetes eye specialist. I was supposed to go in May. Life got in the way of my remembering to make that appointment. My doctor's office treats a D celebrity. My doctor has done amazing things for my peepers. I have tons of reasons not to be scared. I'm scared.