I've been struggling (read: procrastinating) about my 34th diaversary blog post. I'm in a different spot than I was a year ago. In putting this off, it's hard not to focus on what seems like an incredible amount of flat-out craziness in the past 2 months. If you follow me on Twitter, you might have picked up on my health insurance woes (I mean it's just nuts). Bronchitis and emotional turmoil/lack of sleep/ and not eating much didn't do my BGs any favors. During the bronchitis that wouldn't quit incident (come on lungs, enough already), I kept taking more and more insulin, pulling pump sites I had hoped were "bad", and switching vials of insulin. I'd get those bg's down to the low 200s but just couldn't get them to budge any further. These issues were just the tip of the iceberg. In the interest of preserving other people's privacy (and perhaps my own sanity), I will simply say I have endured and been surrounded by a heck of a lot of heartbreaking loss recently. When I really think about it, it's overwhelming and completely surreal. Then, I think of my diaversary and I'm just like, yeah, whatever. I have bigger fish to fry.
Monday night I attended my very first JDRF NYC Board meeting. I only knew one other person there, it started late, I got there early and it was, well, a bit awkward on my part. I felt very "new" in an organization where I often feel "old".
Fast forward to the dinner presentation. Tom Brobson spoke (if you don't know who he is, he is the National Director of Research Investment Opportunities at JDRF). Yes, THAT Tom. Tom spoke and I was elated. I've watched Bob's artificial pancreas videos before. As you may know, diabetes discoveries really do occur, another mouse is sometimes cured and I make the same comment for the upteenth time, "Oh to be Minnie Mouse". Tom, in my view, is sort of like Mighty Mouse. He's been IN these clinical trials. He has seen and been part of an experience that I don't know.
As Tom spoke on Monday night, I felt a sense of levity. When he talked about not having to think (stress) about what he was eating (during his study out in the wild… AKA the real world), his enthusiasm was evident. It was intoxicating.
I read a lot about what some term "practical cures". Hmpf. Let me get this straight, I could eat or not eat what I want and not think about bolusing, or splitting a bolus, or needing to bolus earlier or later or not at all or dropping after all this bolusing hours later? Are you frigging kidding me? I'd have to wear some devices and carry a smartphone? Oh that would be so tricky since that's EXACTLY what I do now but I have to think about this stuff ALL the time. A steady stream of checking and reacting, reacting and checking.
Tom spoke about other technologies on the horizon. Other clinical trials funded by JDRF. I could go on for pages, Some I knew of and others were new to me, but here's the part that was the happiest to me. When the presentation concluded (also note he fielded questions the ENTIRE time he spoke which was also awesome), I decided I wanted to hug him. Yeah that's right. If this guy is the Mighty Mouse of clinical trials and the technologies I fantasize about, you sure as hell can bet I'm going to thank him and hug him like there's no tomorrow (and take photos of course).
As is often the case in my hugging world, Tom seemed quite surprised and offered me his smart phone to take a photo while I held it (with the artificial app screen showing). What the heck, humble guy? I didn't cry but I did tell him about how much I have loved watching his videos. How I send them out to the people who love and support me on this fight against T1D. That I show his videos to our Alecia's Stem Cells supporters to show them WHAT they are funding. That I admire the trials he's been in, by choice, that sounded awful. Trials hooked up to 2 IVs and being all bundled up so his veins wouldn't collapse as he sat in a hospital bed. So yes, I hugged him and I hugged him hard!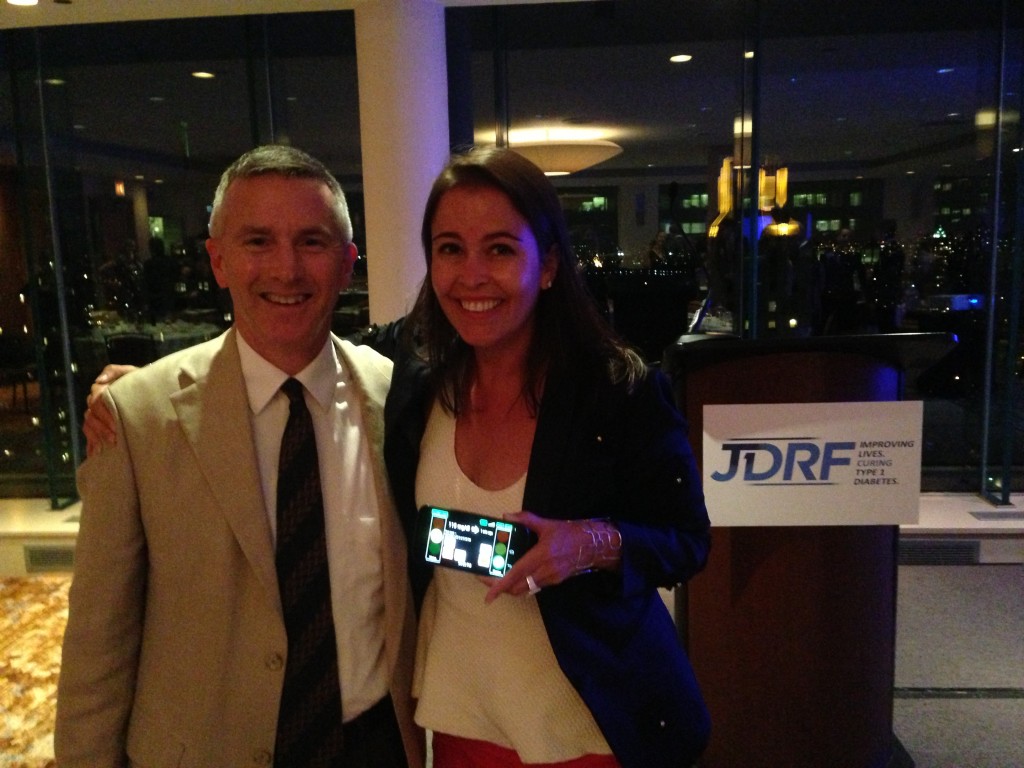 So here's the scoop kids. Happy 34th diaversary to me. I still have hope. Pure and simple. I am still me. I have hope that technology will continue to better my future. I acknowledge that there is such a small percentage of people who are T1Ds in the world, that I need to push this agenda for a cure and better treatment options. I need to raise money and take part in grass root efforts and get other people to support these ideas. I'm still not giving up. I will continue find joy in life and I will fight like hell to keep living. I will also fight like mad for a better future for my fellow T1Ds.