You know the NYC JDRF Walk is coming up (September 29th) and you also may know this is the 12th Year for Alecia's Stem Cells (NYC) Friends and Family Team.  I've walked a lot of walks and I certainly keep talking a lot of talks.  If you've done the Walk, you know it gets maybe, just maybe, a we bit redundant over the years.  I am always trying to put a new spin on it. Boston team and NYC team in ONE weekend?  Check.  Design your own Alecia's Stem Cells iron-on shirt party?  Been there, done that too (it took FOR-EV-ER).  Pirate shirts with me in a pirate beard (Keeping the ARRRR in JDRF?) and pirate sword fights over the Brooklyn Bridge?  Yep and arrrrr.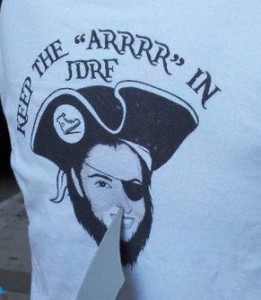 So how do we spin it this year?  Ah my friends, this is the Until-A-Cure is found question.  I have been considering challenging my buddy Ben from Team Hoffmanderson to a Break-Off.  A Break-Off you say?  Oh yes indeed, I do say.  I would do my best breakdancing moves (I have 1 move, well sort-of 1) with Ben over the Brooklyn Bridge to raise money.  Does anyone want to even see that? Nah probably not.  Bikers would be yelling at us, kids would be tripping over us, we would give diabetes a bad name (Ha!  Like diabetes has a "good name".  Funny stuff there).  So while I agonize over gimmicks, let me tell you a fundraising plan that IS happening… RIGHT NOW!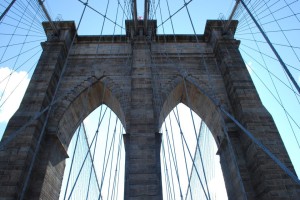 Over the years, we've had some awesome and diverse Alecia's Stem Cells shirts.  I've had a slew of friends take a stab at this (no needles were actually involved).  It's been fun/crazy/ totally stressful getting designs ready, finding printers and making the Walk deadline.  I buy the registered team member's shirts, but it gets tricky having a set number of walkers so far in advance.  This year, our shirts were a collaborative effort (Thanks so very much Deb) and then I had the same idea I seem to have every year … oh wouldn't it be great if we could sell some shirts?  I saw a tweet from Tina over at Stick With It Sugar where she was selling her Walk Team's shirts through a crowd sourcing printer.  It's a long story, like a really long story, but I had such a great call with Tina, realized we needed to use a different printer if this was even going to be an option, looked up a Forbes article where the founder of the company Tina used named his competition (to all business owners, never acknowledge the competition in an article).  I called the competition the day before a holiday weekend, had a totally surreal conversation with the Principle.  He knows my work and is a fan of my former boss.  He also understood my Do Good, Feel Good philosophy AND they could do the job AND they wanted to help!!!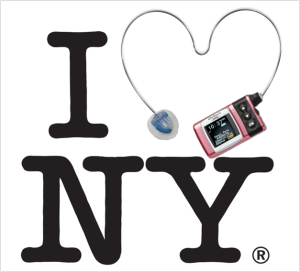 So here's the skinny.  I LOVE NY.  I HATE diabetes (See what I did there diabetes, I didn't even give you capital letters, di-a-betes).  The back of our shirts have a tag line thought-up while looking over notes I took at a JDRF Walk Kick-Off/Research Update:
New Technologies, New Treatments, New York.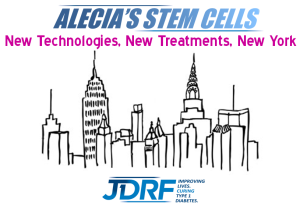 So, we are in the shirt selling business folks, But ONLY until 9/12 (SOON people, so very soon).  The shirts are great quality (Canvas and Belle who supply T shirts for Nordstrom which I wouldn't know since we don't have a Nordstrom in my city…. yet) and come in Mens, Ladies and even Youth sizes (this is a first for us).  Not only are the shirts cool, rad, awesome, fly, tight, sick ( <- that one annoys me), BUT the proceeds are going to JDRF!  Yep, our team fundraising efforts have a NEW spin… Team shirt sales!!!
So check 'em out and most importantly, PLEASE forward the shirt link to anyone you think might like one (or two) too!  Thanks y'all.
http://inktothepeople.com/private-marketplace/ink-detail/11041