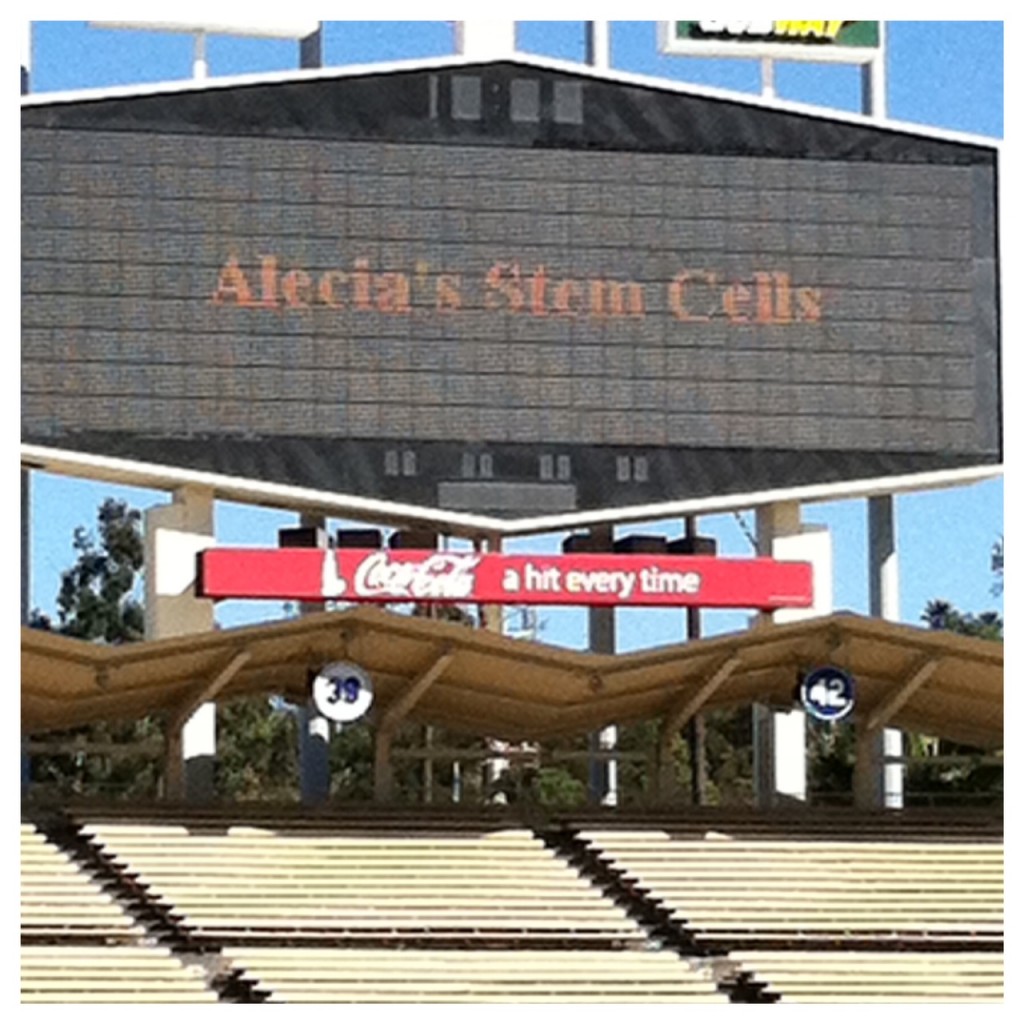 I'm a bit late on this post but it's been one hell of a Diabetes Awareness Month for this lady!  This post is the follow-up from my JDRF New York City Walk for a Cure post.  Our team, Alecia's Stem Cells, expanded again this year.  On November 11th, I walked with our first EVER Alecia's Stem Cells Los Angeles team at Dodgers Stadium (and the crowd goes wild….. Rrrraaahhhh).  It was wonderful to have a 2nd team again this year filled with friends and family. I was amazed by the team spirit exemplified by my cousin, his wife (my wonderful friend), her sister, and her sister's boyfriend.  They sent walk donation letters out as a group.  When I received one, of course, I cried.  Their letter talked about me and used parts of my own NYC letter, but then it included a story about the beloved uncle of my cousin-in-law and her sister, who had died of complications of diabetes.
Our little newbie team managed to beat our LA team goal and raised $2,210.  I was, and remain, amazed.  Our NYC team had just raised $21,631.62 and I was 100% sure I had asked anyone and everyone to donate already by the time the LA Walk was on the horizon. If you doubt the power of social media, I offer you this, friends posted a zillion NYC walk team photos on Facebook right away.  It was an incredibly exciting day for me and I think that comes across in the photos posted.  As the LA Walk approached, I posted something about how great Walking in NYC was and if anyone felt they missed out, there was still time to help out our LA walk team.  Within minutes, two Facebook friends I barely know donated!  Right before I left for LA, I posted that we were $50 away from our team goal.  3 people who had already donated to the NYC walk all donated AGAIN to help us reach our goal.  I'm teary just typing this!  AMAZING (not the teary part, since I'm a crier, but how many people cheered us on and supported our team's efforts).
LA Walk Day was incredible.  Gorgeous weather, a new venue and fun stories.  The walk route circles Dodger Stadium twice (but different paths both times) and THEN, the last lap is around the infield!  There were tons of diabetes vendors to visit and lots of swag.  I got samples of LEVEL Glucose Gel (the mandarin was super duper sweet tasting but very effective as I learned on the last lap when Dexcom beeped bg 87 and an arrow down) and Quick Sticks (which are freaking awesome – said me, the girl who's never had a pixie stick ever).  I also got chatty with an Animas rep and begged for the Vibe (oh I know, I know, it hasn't been submitted to the FDA yet, but a girl can dream and ask the same question over and over, and yes, over).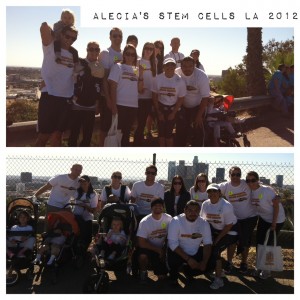 About 8 years ago, I went to some sort of JDRF NY luncheon.  It may have been a walk kick-off lunch but I'm really not sure.  I sat next to the only other person who seemed my age at the table, and she was a fellow T1D.  We became friends and she walked many moons ago with Alecia's Stem Cells NYC.  At least 6+ years ago she moved back to Los Angeles, got married and had two kids.  All these years we've stayed in touch via Facebook and right before the LA walked she signed up for our team along with her family.  It was so great to reconnect with an old D friend and meet her adorable family.
I also tweeted asking if anyone in the DOC was going to the LA Walk.  Although our team did the Big Blue Test, I never managed to meet-up with Mike Lawson (boo hoo) BUT, Diane from Type 1 Trip said they had a team and described their Team Julia shirts.  I found them in the infield.  I'm fairly certain I may have come across as a stalker, but I asked a ton of people in pink shirts who Diane was and although we were both busy with our teams, we had a few minutes to chat and I believe that was the first time I introduced myself as "Alecia, ummm Surfacefine on twitter".  We had a big hug moment and my team was off and running (well walking).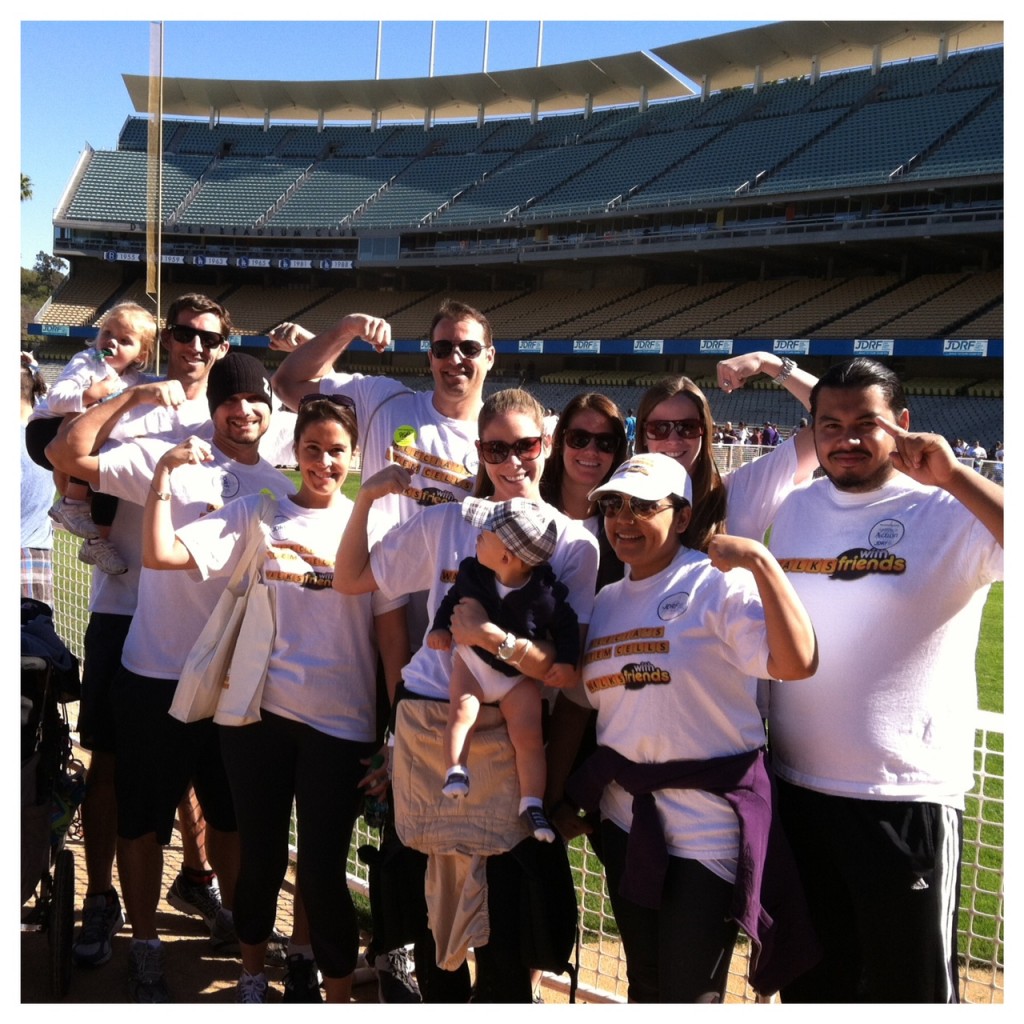 As I've posted before and will say here again, Walk Day is like a weird holiday for me.  Its a day full of hope, promise and an incredible amount of love!  It is a day near and dear to me. I can't thank my friends, family and fellow walkers enough for their amazing generosity and supporting the ongoing efforts of JDRF.