Yesterday was not a great diabetes day.  I still don't feel like writing about my doctor's appointment.
I thought I was off to a great, fresh start at the gym this morning.  Then I got to work and split my pleather riding pants.  Who doesn't love grunge (or odd skin exposure at work)?
I think we all need more silly moments.  Well, I would really like more silly moments.  Yesterday I snapped the photo below.  It makes me smile.  J Crew Baby looks like some baby had a level 10 temper-tantrum in the window display.  Silly.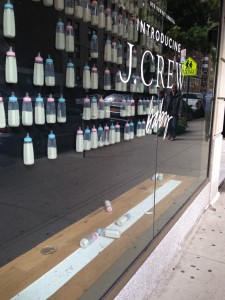 I imagine a baby screaming, "NO I DON'T LIKE THAT SWEATER" or "GET ME OUT OF THIS STORE" or " I HATE THE UPPER EAST SIDE AND THESE PREPPY CLOTHES, MOM".
I didn't get much sleep last night.
Smile.  Happy Wednesday.