My bond with Dallas: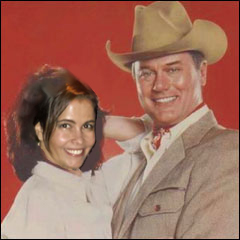 1.  The TV show Dallas premiered in 1978.  A few months later, I was diagnosed with T1D.  Yay the 70s!
2.  Who shot JR? Was a cliffhanger which became a pop culture phenomenon.  The episode where the shooter was revealed was the second highest rated prime telecast ever (it was Sue Ellen's sister who revealed she was pregnant with JR's child and used that to keep herself out of prison).  During the time this episode aired, I too was taking shots (well of insulin… no bullets were involved).  Shots!
3.  Season 9 of Dallas was revealed to be a dream sequence of Pamela Ewing's (she thought Bobby died.  It was awful.  When she "woke-up" the next season, she freaked when she found him taking a shower).  Bobby's "return" (he left for a season but was persuaded to come back due to declining ratings) effectively eliminated everything from the previous season.  I wish T1D was a just a dream, but alas, my dream is to be part of The CURE, and eliminate T1D.  On a side note, I'm a huge fan of long showers too!
4.  Dallas won 4 Emmy awards.  I've won 4 Best of the Betes Blogs (so close to an Emmy… if only the blog were a TV show).
5.  Sue Ellen was a former Miss Texas.  Sierra Sandison is a fellow T1D and a current Miss Idaho (this part will make sense in a minute).
6.  Dallas was know for ending every season with a cliff hanger.  Diabetes is a series of ups and downs too (especially with blood glucose levels)
7 . I was once lost in South Fork… well the south fork of Long Island.
8.  Dallas originally aired on Saturday nights, was switched to Sunday nights and then switched to Friday nights where it stayed, until the series ended in 1991.  I will be in Dallas this Friday night to attend and speak at The JDRF DALLAS Type ONE Nation Summit on Saturday 6/6.
Incredible right?  So are you anywhere near Dallas/ Ft Worth?  Do you have T1D?  Do you love someone with T1D?  Do you care about someone with T1D?  Are you enemies with someone with T1D (ok that part's a joke.  Cheeky.)?  Here's the Registration Info (yes, FREE).
JDRF Type One Nation Summits are happening throughout the country.  If you would like to find one near you, click HERE.
These Type One Nation Summits create some really amazing opportunities and I have met such amazing people and lots of new friends.  I've been to 2 so far (3's the magic number right?  Yay Dallas… or should I say Yee Ha?).  The presentations and speakers are different for each Summit.  In Dallas, there will be an outstanding group presenting and also hosting a series of break-out sessions.  The list is available HERE and includes Miss Idaho, Sierra Sandison who brought so much awareness to diabetes with her #ShowMeYourPump campaign and also professional snowboarder and founder of Riding on Insulin, Sean Busby.  You can also hear me attempt to say, "Mission Message" which is absolutely impossible to say 3 times fast.
This post was a bit more of a stretch than the Britney Spears/Vegas post but hey, the "shots" part was pretty solid.  Just remember, EVERYTHING'S bigger in Texas y'all.