I have a pretty high tolerance for pain (that doesn't mean I won't complain incessantly when something hurts). I've been taking shots a long time (and they were WAY bigger when i was a kid), inserting pump sites and Dexcom sensors for oodles of years. Why then, is today the day that my left ring finger tip hurts so effing much from a finger stick? It's almost comical in the realm of physical pain that typing is killing my damn finger and I keep wincing in pain… like a VERY angry splinter.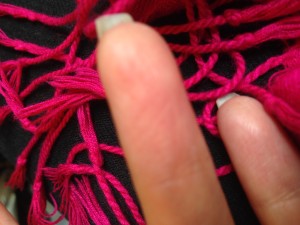 Such a teeny red spot/ bruise. Sometimes it really is the little things that sting the most.
A bruised finger has me thinking about how ready I am for the next level of technology and ultimately, someday, I hope, a cure.  I think about how I speed packed this morning to get out of town for a few days.  Picking out what to wear today not based on weather or comfort, but what will keep my pump most accessible going through security at the airport and how I should have moisturized my legs as I may have to drop my pants to show of my thigh Dexcom site but at least I'm wearing my lucky heart undies.
I write this post to bring up a point near and dear to my heart (oh and to complain a bit)… This week has been National Volunteer Week (tomorrow is the last OFFICIAL day).
GO. DO. SOMETHING.
No really, go. Volunteer to help JDRF. Local chapters are always looking for people to help out. It's not about donating/raising money (although that is indeed important). Encourage a non D to volunteer with you.  Believe me, it's not always easy, but try it.  Spread the word.  Do good, feel good.  Figure out your talents and volunteer them. Give your time, your ideas, your heart and most importantly, your passion.
It is time. GO!
PS If you are looking for something to do…Alecia's Stem Cells is ALWAYS looking for walkers, sponsors, social media pushers, friends, competitors, cheerleaders, huggers…. more info about ASC in the next few weeks.