This morning I went to the gym before work. 40 minute+ workout. Cross training (ish). Weights, planks of torture, rowing, kettle sillies and some dancing around because that's how I talk while exercising (apparently). Jump around! I stopped at Starbucks as I walked home. My local Starbucks remains under construction. I keep going there, forgetting the closed sign on the door. I started to walk down the steps and OUCH!  It felt like something stabbed me in the butt. Not my butt really, but the part under your butt where your thigh starts.  I took 2 more steps down. OUCH!  Was I being bitten ON the crease of my butt?  What?  Nope.  Kept walking feeling too embarrassed to grab my own butt. At a traffic light I pulled on the fabric of my spandex pant leg and jumped around, smiling, knowing the expression "Ants in Your Pants" was appropriate to my movements.  Somehow that fixed the problem.  Weird. I kept walking.  Took a step off the curb and OUCH.  The biting was back but slightly moved.  I jumped around wanting to stick my hand down the butt of my pants but keenly aware that I would absolutely run into someone I knew.  I kept pulling on my pants and swiped my hand over the spot expecting to feel a straight-pin sticking out.  Nope.  Nothing.  Stabbing feeling stopped.  Weird.
As soon as I walked in my front door, I pulled off my pants (careful not to disturb the Dexcom sensor on my thigh and my insulin pump site on my hip).  Looked inside my pants.  Nada.  Looked at the outside of my pants.  Nada.  Looked at the floor.  Nope, nada.  I took a step towards the shower.  OUCH!  I felt my butt.  Look what I found.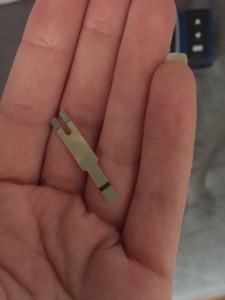 They are everywhere, people.  Everywhere.  I walked around (and worked-out) at least an hour with a BG test strip in the crease of my butt/thigh.  Well played diabetes…better than being in my sock…. again.
Why am I sharing this story?  An opportunity to chat about my butt?  Not really (ish).  I believe sometimes we just have to laugh at the absurd things that happen because of diabetes.  At the end of the day, here are your cards, play the hand you were dealt (I couldn't come up with anything like that involving butts.  I went down a path of Sir-Mix-A-Lot and then a thing about the Kardashians but that got too strange).  I stripped and found a strip?  Nah.