When it comes to having a JDRF Walk Team, it is challenging to get and keep people interested year after year.  Asking the same people to donate money, asking people to walk, asking people who are walking to please raise money, it isn't easy, and involves a lot of asking.
I met my dear friend Kerry, my first day of college (Yes, a long time ago.  Dinosaurs carried our books.  They were very helpful). She is a wonderful friend and will be walking with me again on September 29th.  A few months ago, she started a new business venture with Initials, Inc.  At the time, I was carrying my blood glucose supplies in a ziplock bag (yes, it was convenient-ish, ok, not really).  When I looked over her website, I thought this was a great opportunity to not only support and cheer-on my friend, but also time to try out a *NEW* blood glucose carry case.
Kerry sells a design called Tune Keeper which is a fabric, zippered pouch, meant to hold an iPod.  It also has a keyring and lobster claw clasps on one end.  The pouch is padded and securely fits my Verio IQ, OneTouch Delica, Verio test strips, emergency cash, and if need be, my Dexcom G4 receiver.  Yep, I love it.  It also has a tiny interior pocket (that's where I hide the $5… there's the info robbers.  Come and get it).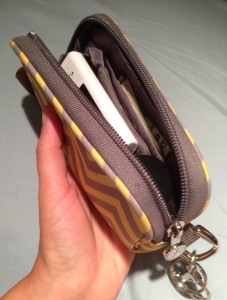 Kerry contacted me about an idea she had to help fundraise for this year's JDRF Walk.  In separate news, her daughter is the one who reminded me to believe in miracles, when I needed a miracle believing boost.  It's a whole story about inch worms, and bronchitis, and crying at a funeral, and the inch worms becoming moths.  I'll save that story for another day though.  Anyway, Kerry is a special person in my life (as is her family) and this is what she's doing (in Kerry's words):
As a Creative Partner at Initials, Inc., I am excited to help fundraise for my friend, Alecia's, JDRF Walkathon's Team. This month, 25% of your Tune Keeper purchase will go towards her team, Alecia's Stem Cells, as we walk for a cure in two weeks.
What is the Tune Keeper, you ask?  It is a cool little wallet meant to hold your iPhone & earbuds, but Alecia has found it perfect to case her diabetic supplies! We thought you might think it is handy for other uses, too. Plus it makes a great gift – never too early to start that holiday shopping!
Since being diagnosed in 1979, Alecia has benefitted from technology advances in diabetic care and treatments. Glucose monitors and insulin pumps simply did not exist when she was diagnosed, but these advances come from critical research – and research is the key component of JDRF.
I've set up a shopping link to purchase the Tune Keeper. Please visit my website !Click SHOP ONLINE at the top and click "Shop Now" to the right on the "Tune Keeper Fundraiser – JDRF event" link to make your purchase. 

I will personally donate 25% of my sales of the Tune Keeper towards my friend's JDRF team,

 and will follow up with an email to you to let you know how much was raised from this sale. Please consider buying one of these great wallets and supporting JDRF!
(Please be sure to un-click "ship to host" to have your order shipped to 

you – otherwise it will ship to me.)
Please feel free to email me with any questions about placing your order.
THANK YOU FOR YOUR SUPPORT!