This is late but life is busy.  I already told you about my trip to the ER.  So now it's time to flip the switch.  Sunday arrived (9/30), I told my stomach to knock it off, and we all arrived at the walk bright and early.  Here is the email I sent to my fellow teammates and supporters AFTER The Walk (with an updated total and some added photos):
What a day for a JDRF Walk! 
As many of you know, this year was our 
BIGGEST Alecia's Stem Cells WALK TEAM EVER!  I could not have been more excited as Sunday approached.  (My friend ) D and I had our WALKS With FRIENDS themed shirts (hats & tote 
bags too) ready to go, we had a lot of newbie walkers, and for the first time ever, we had a whole bunch of my fellow T1Ds all walking with us too!  
As my fellow walkers know, Friday afternoon turned kind of crazy when I ended up in the ER, stayed there through early Saturday morning, had to cancel my interview on our local CBS Saturday morning show (to speak about JDRF, the Walk, and our AMAZING Alecia's Stem Cells team 11th anniversary).  If I wasn't so dehydrated, I probably would have cried a river BUT I did make it to Walk Day!  I think JDRF felt sorry for me and as a cheer-up, they had the President/CEO of JDRF, Jeffery Brewer, come talk to me at our Alecia's Stem Cells table, which was pretty awesome! 
I have some other incredible moments to report to you, my fellow walkers, and supporters of our fundraising mission…as of today, we have raised a whopping $21,381.62.  Incredible! WOW!
Next up….D's incredibly cool, customizable shirts WON for BEST FRIE
NDS & FAMILY TEAM SHIRTS! YAY D (that's the pic from the moment we heard the shirts won)!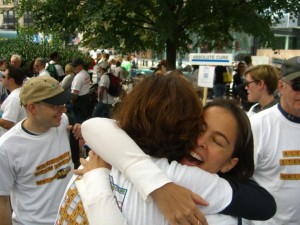 The weather miraculously held-up (after some dicey weather forecasts), 
WE BEAT OUR GOAL
, and my parents and siblings were all with us (except my nephew and sister-in-law Alysson who cheered us on and sent pics of my week and half old nephew in his Alecia's Stem Cells gear).  We had walkers travel from California, Chicago, Philadelphia, New Jersey and a 7 hour bus ride from Penn State!  Friends I've known for 20+ years walked, new friends-of-friends I just met that day walked, and my office mates and their families walked!  We had 46 team members make it to walk day and I could not be prouder!
Walk Day is like a weird holiday for me.  Its a day full of hope, promise and an incredible amount of love!  It is a day near and dear to me.  I can't thank you all for your amazing generosity and supporting the ongoing efforts of JDRF. 
And just remember, if they don't cure diabetes by next year, we would LOVE to have you join us in our NYC bridge crossing!