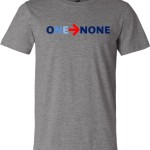 In a matter of hours, our T-shirt sale/fundraising extravaganza will come to an end (and the shirts will GO TO PRINT).  The ONE to NONE shirt sale ends TONIGHT at midnight CST.  I had hoped we'd sell 40 shirts (needed to sell 24 to go to print) and Pres-To-The-Effing-O (PRESTO) I just heard we are up to 46.  Wow!  Not bad!
Proceeds go to JDRF, rocking graphic T goes to YOU (or you could give it as a gift, right?  Or buy a whole bunch, and give as LOTS of gifts).
I'm too tired right now to end this post in a witty, or snarky or even sassy way (although I'd like to, so I'm open to suggestions), however earlier today I explained the rationale behind a KISS work/design project (Keep It Simple, Stupid).  I then used a photo from over the weekend when I happened to meet Paul Stanley in a restaurant (he of KISS fame) to drive my point home.  I laughed myself silly and even cheered for myself which is just full-on weird.  My wit is now long gone for the day (possibly week), so if you would like a T-shirt, just get on it, because you are running out of time (mere hours).
Rock and Roll all night?  Yep, tired.
http://inktothepeople.com/marketplace/ink-detail/38593