Alecia's Stem Cells JDRF ONE WALK team is selling shirts again!  New spin!  These awesome shirts are NOT the shirts our walk team will be wearing this year.  This design comes in a slew of styles and sizes…. mens, womens, kiddos.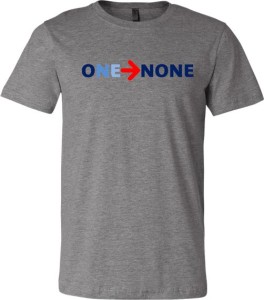 Here was the idea…. design a shirt for sale to the public and the proceeds will go to JDRF.  CHECK.
Design a shirt that is a conversation starter…. One arrow none?  Oh what does that mean?
Design a shirt that anyone and everyone would wear.
Design a shirt that embraces both JDRF and Alecia's Stem Cells…. yep, done.
Use red!  Red is the color of energy, blood, desire and PASSION!  WE have the PASSION to PUSH Type ONE to Type NONE!
Want a shirt?  OnetoNone
Care to help?  Share this link: http://inktothepeople.com/marketplace/ink-detail/38593
And a HUGE thank you to Ink to the People who are so supportive of me, ASC, and fighting T1D!
Happy Labor Day weekend! xo